In collaboration with David Grüner and Bana Sa'adeh
Developed at the Master program in Social Design at the University of Applied Arts Vienna
Project launch: January 2019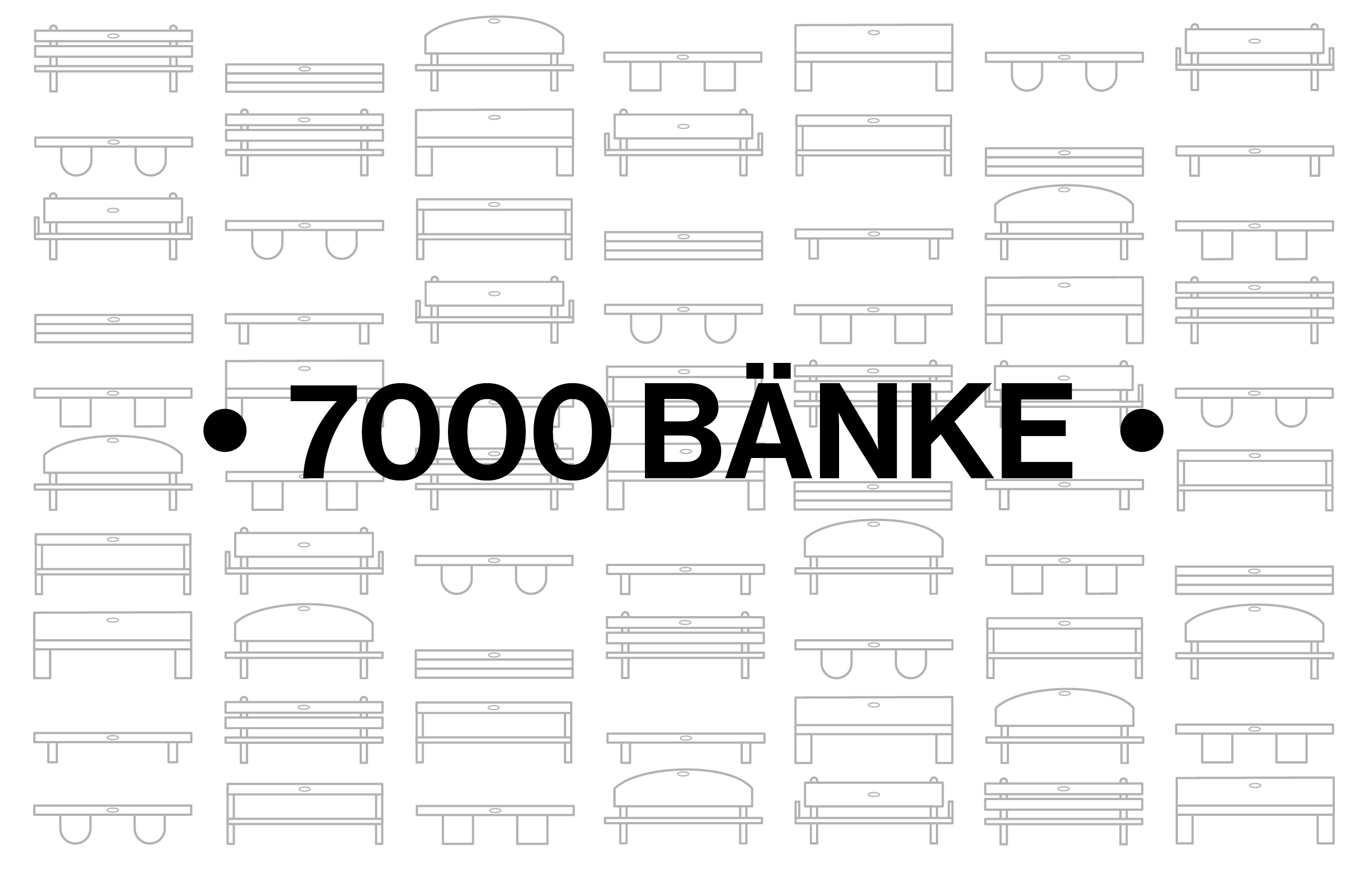 ↑ Images of the very first bench workshop during the project presentation in 2019 realising bench No. 1–10

Why 7000 benches?

As the title makes clear, 7000 Bänke (engl. Benches) has big plans. 7000 is a symbolic amount, especially if you consider that there are about 10000 benches in public space (excluding the ones in parks) in Vienna at the moment.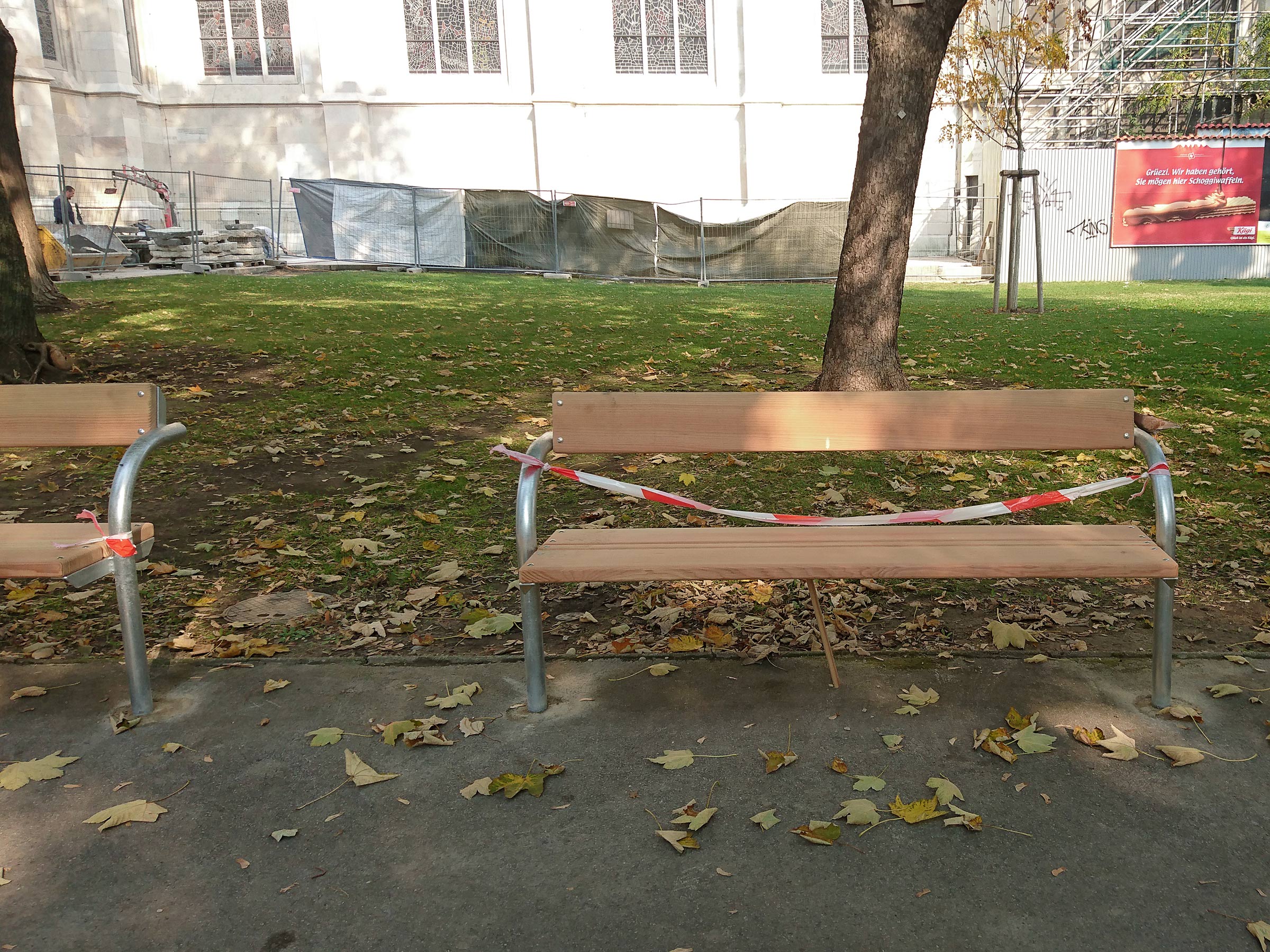 As well as the number is symbolic also the object itself, the bench, is, resembling the social aspect of encounter. It is best used together and usually stands in an area that was once described as the living room of the city by the Danish architect and urbanist, Jan Gehl, and is thus perhaps the symbolic object for participation in public space par excellence.

But the question remains: why so many benches?

From our own experiences and the ones of friends and acquaintances, we know that in many streets in Vienna there are often very little or no opportunities to linger. Often there is only the possibility to sit down at bus stops, cafés or in parks.



↑ Bench in front of Café Nest, Operngasse 25, 1040 Vienna

This is also underlined by a recent study by the University of Natural Resources and Applied Life Sciences in Vienna, which examined four big European cities.
It came out that in Vienna only two out of ten streets have seating opportunities without any obligation to consume, significantly less than in all other cities investigated.
Especially in residential streets and streets far away from the city centre, public space is simply underdeveloped.

In one of our first 'Bench-Talks', this was confirmed by the Green politician, Mag. Silvia Nossek, district mayor of the 18th Viennese district, Währing, where in contrast to many other city districts, consequences have been taken. Together with citizens projects for a positive change in public space have been initiated.

The lack of seating is a big problem, especially for people with physical limitations, as we have learned from several interviews. There is quite a number of elderly and physically handicapped people in the city, some of whom do not dare to leave their homes without help due to the fear of not being able to move around safely.




However, in general, this condition is a bankruptcy declaration to the public realm. Because only when you feel good you will actually stay. So if there are few opportunities to sit and chat, besides in parks, this robs the public much of their quality of life.

That is why we want to work together with initiatives, associations, designers and all citizens of the City of Vienna, who are interested in positive change of public space to create a variety of benches and seating opportunities for the public and semi-public space (such as in backyards or in front of house entrances).

7000 Bänke as Social Sculpture


↑ Joseph Beuys during Documenta 7 in 1982 explaining his project 7000 oaks

"Everyone is an artist." This quotation and the reference in the title of this project come from the German artist, Joseph Beuys, who in the 1980s impressively symbolized his idea of a Social Sculpture with his action 7000 Oaks. Beuys, together with citizens of the city of Kassel, collected a lot of money over several years and planted a total of 7000 oak trees for a green renewal of the city and thus make it more livable.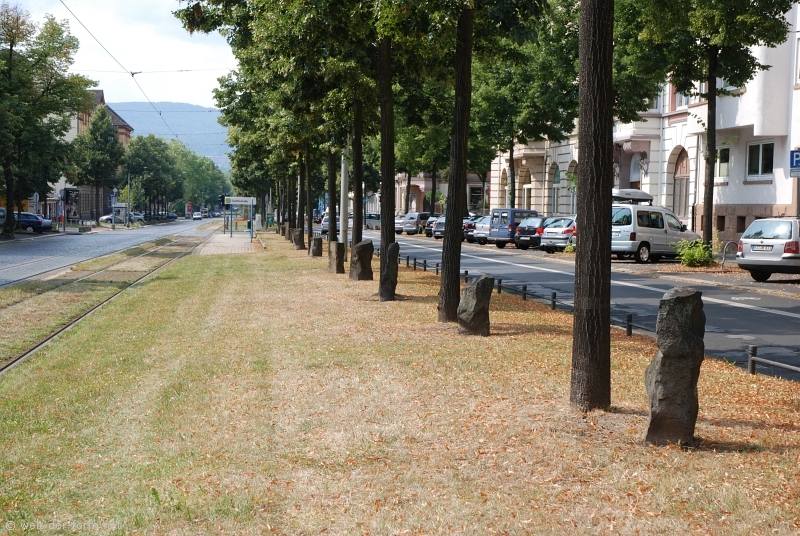 "Everyone is a bencher." This thesis comes from us. Because we all use benches and proverbially everyone can build and set up a bank, at least with the help of some fellow combatants. This is also shown by examples such as the initiative of Noah Riemer, who told us in another Bench-talk how a bank, that he built and set up, established and made possible a whole house community.
Also actions, like the bench-intervention of café-owner Wolfang Maringer, show how one can create micro-spaces of encounter by simply setting up of a bench without compulsatory consumption.


↑ A simple bench put up by a friend that later enabled the foundation of a house-community

The bench as controversial object

Politics and administration, in their efforts to do more for public space, repeatedly encounter human obstacles during the set-up of seating opportunities. Not everyone would like to have a bank next to his or her house. There could be homeless people sleeping on it, junkies causing problems or young people drinking beer and making noise.

This was also confirmed by an interview with Erich Streichsbier, an employee of the municipal department 19 for architecture and urban design, as well as the radio report heard on Ö1 with the title "Kampf ums Bankerl" (eng.: struggle for the bench).

The bench symbolizes a place of encounter, this appeal is intended to help in reducing fear and promote a respectful culture of an important part of public life.

But it is precisely because the bench symbolizes a place of encounter that this appeal is intended to help reduce fears and promote a respectful culture of conflict which is an important part of public life.

With these words: to the 7000!